Are you ready for the summer ?☀🌞
Looking for a summer camp for your child?
We get a lot of requests from parents for summer camps, so we've put together a list of resources for you to explore.
It's important to know that registration for summer camps happens early–and spots can fill up quickly.
So, register Now and make a summer plans for your child in advance! ☝🎶
Virtuoso School of Music and Art. Dance & Yoga provides Educational summer camps .
Virtuoso School Summer Camp is a series of week-long, half-day music, art and dance camps designed for young kids ages 4-8 to spark imagination, encourage self-discovery, and make lifelong connections to many expressions of Music, Art and Dance.
Each week- long camp will meet daily from 9:00 a.m. to 12:00 p.m. at Virtuoso School, led by professional teachers who will teach skills in a particular medium and give individual support.
In the course of the camp moderated by Virtuoso School, students will develop technical and conceptual skills with their peers while producing an impressive body of work.
At the end of each going to be small performance!
Register here :
☎704-402-7955
www.virtuososchoolofmusicandart.com
Each camp will be provided with different activities such as
Your children are going to perform every Friday to show you their success achieved.
Cost of one camp is $350 for the whole week including all the equipment and simple lunch (fruits, juice, chips, crackers), paying $100 in advance while registration is required.
Bonus: families with 2 and more children receive a discount 10%!
Schedule of the camps is below: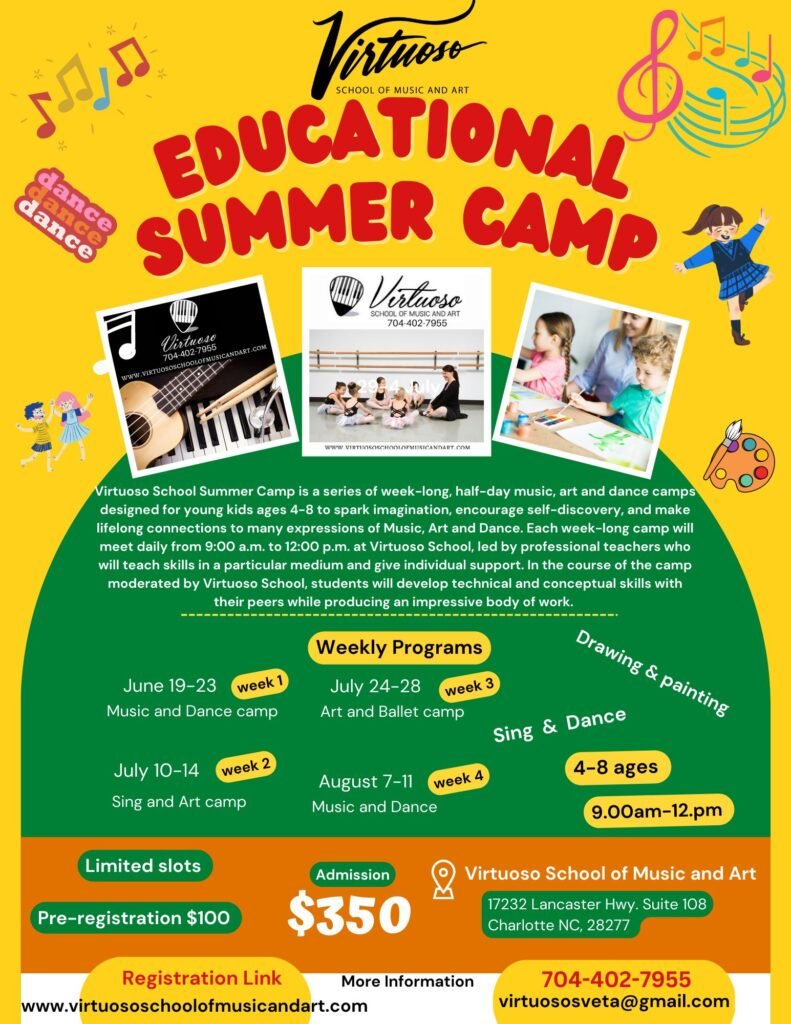 VIRTUOSO SCHOOL OF MUSIC AND ART
REGISTER NOW FOR LESSONS AND CLASSES
Virtuoso School of Music & Art offers private music lessons on of a variety of instruments including: piano, guitar, violin ,drum and many more. In addition to instrumental instruction, we also offer vocal lessons, Art Classes and Theory & Ear Training,Preschool classes for young children of 2-5 ages. REGISTER NOW to Enroll in Lessons & Classes!
My son has been taking piano lessons from Stevlana for 3 years. He was years old at the time and learned to read sheet music within a couple of months. He has blossomed into a very good pianist but the most important part of the experience is the self-confidence has built over the years. What separates this music school vs others is 1) amazing teachers. Lana, a very accomplished musician, has accumulated a staff with amazing experience that allows them to customize each lesson to each of their students. They really care and that is very evident in their enthusiasm that I see week after week. 2) Learning development. The school's founder, Svetlana Chernyshova has incorporated different learning techniques into the program that has produced incredible results. My daughter just started taking piano lessons at five years old and we have seen a remarkable improvement in her expression and piano projection that has built up her confidence. This is a remarkable school that offers individual and group lessons. The school also puts on concerts several times a year to showcase the student's skills. I highly recommend this school for anyone, young and young of heart.
As an adult with 4 years of childhood experience (no recitals and not very serious), I decided to resume lessons because of my grandchildren. Svetlana is much more qualified and talented than I deserve but she has helped me immeasurably. Her patience is amazing. For the last 4 years she has encouraged, cajoled, helped in many ways, and been the main reason I have been able to perform at recitals. Recitals was always a dreaded word but I now now they are ABSOLUTELY essential. My grandkids breeze through them but I sweat bullets. Or, did. Finally, after 15 recitals, I have, ironically, caught up to them. All of this is, and of course after a lot of practicing every day on my part, due to Svetlana. What a great teacher!!!! You cannot go wrong with this person who is a Russian Conservatory trained pianist as your advanced piano teacher!
My children started taking piano with Lana when my son was 8 and my daughter was 5. I had always known that I wanted them to play, and we got very lucky when a friend referred us to Svetlana for lessons. They quickly took to the instrument and I loved having music in the house. After six months of listening to them practice, I decided that I wanted to try to pick the piano back up after a 20 year complete hiatus. I had taken lessons throughout my childhood, up to and including college, but after such a long break I wasn't sure I even knew my notes anymore! Svetlana has proven to be an incredible instructor. She is an extremely accomplished musician with advanced degrees in piano from her native Russia. She has high standards and she consistently pushes the children and me to give our very best to our study. In addition, she is very attuned to the whole presentation of a piece — the dynamic aspects, the tempo, and the mood and feeling that are being conveyed. As a result, I can honestly say I am playing at a higher level of piano after only 11 months with her than I did at the height of my prior 12 years of piano study. Even better, I am getting more enjoyment from playing than ever before. It is pure pleasure to take a break from the frantic pace of mothering 3 young children to sit down and play the beautiful classical and romantic pieces I have mastered, and it is a rewarding mental exercise to work on new challenges. I can not say strongly enough how thankful I am that piano has come back into my life, and I am very grateful to have the expertise of Svetlana as my guide.
Virtuoso School My son began taking piano from Svetlana when he was 5 years old and I could not be happier. I think highly of her classical teaching style, placing importance on reading music and learning theory. She is warm, intelligent, and encouraging. Similarly, Virtuoso school of music and art feels like a home away from home - the perfect environment to relax, enjoy, and learn.