VIRTUOSO SCHOOL OF MUSIC AND ART
The Finest Music Education
Virtuoso school of Music and Art is aimed to provide students of all ages with exceptional studying on the highest level.
We offer a great number of programs for any taste:
Instrument classes (piano, guitar, violin and more others)
Voice lessons
Therapy
Ear training (solfege)
Music Theater
Art
Dance
Yoga
Harp
Little Talents program
Preschool program
Summer camps
You will be guided through the uneasy way from the beginner to pro by our world-class tutors no matter who you are: a kid, a teen or an adult. All our studios are well-equipped, so you can be certain that you will gain only professional training.
The point is that either you're a newcomer in this field of have already got musical education we are happy to meet you and share your affection to music and art!
We believe that it would be interesting to know that foundation of Virtuoso school of Music and Art was a cherished dream of our Headmistress, Svetlana Chernyshyova. Her purpose was to deliver her long-term passion to music and art to everyone who wants to be the part of this strong family.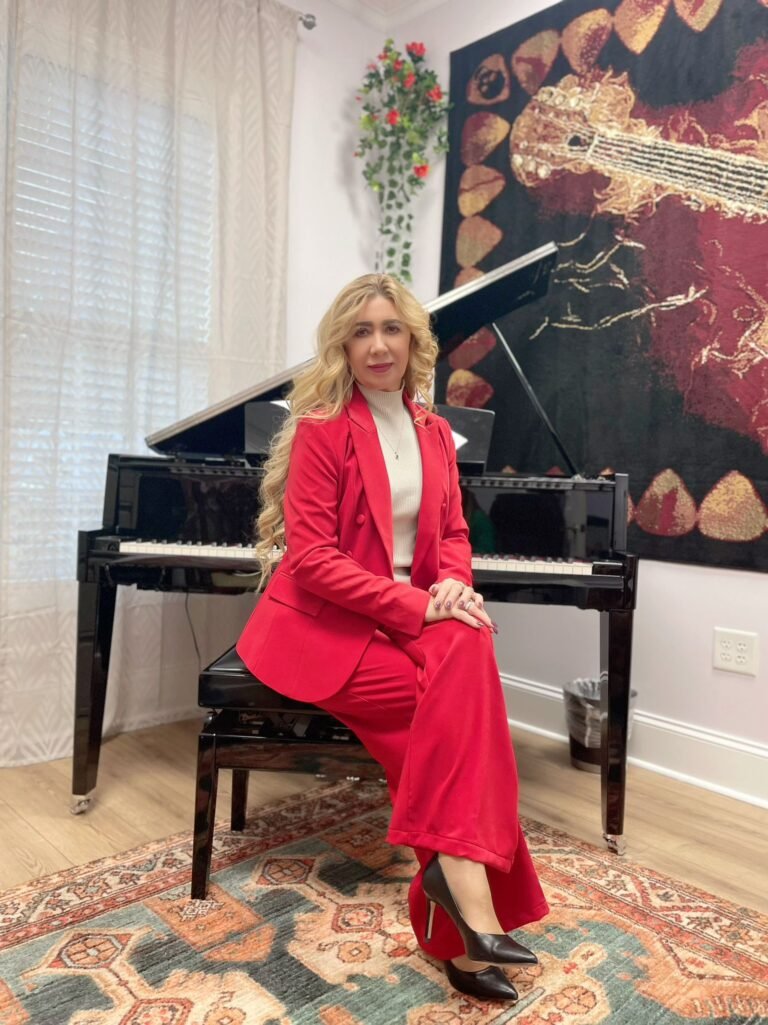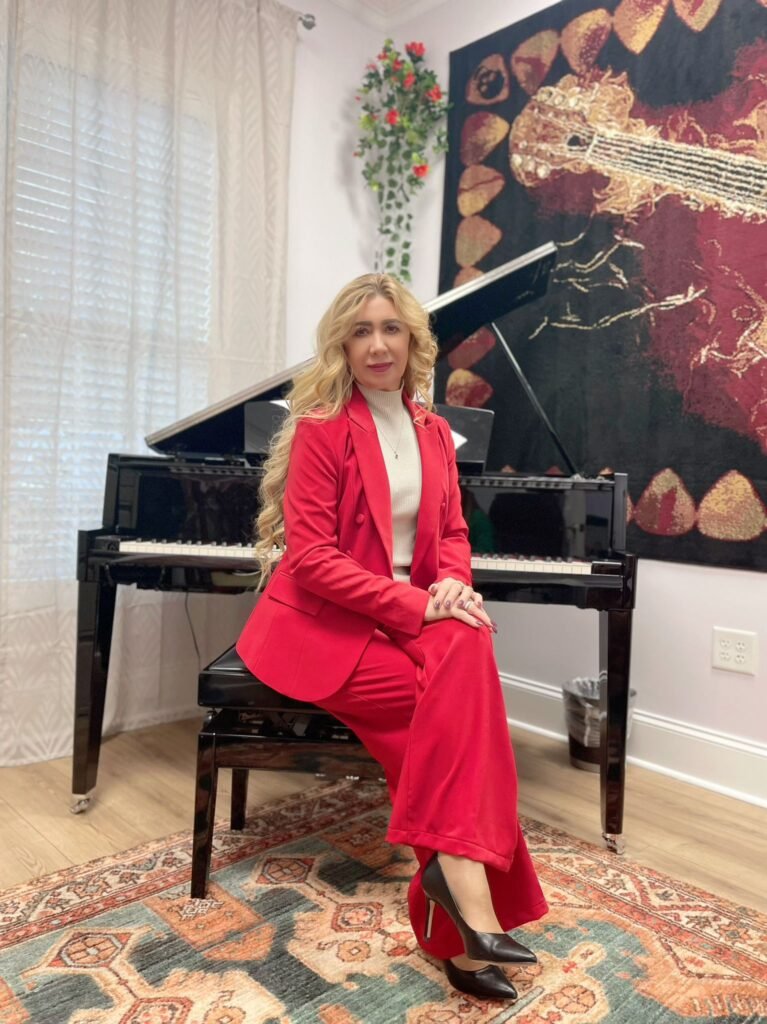 Hello Students, Parents, Family and Friends.
I am Svetlana Chernyshyova, director of  Virtuoso School of Music and Arts.
Upon arriving from Turkmenistan to America I've spent the last 4 years as a dedicated teacher for the Academy of Music specializing in the art of piano. Each year having been proudly rewarded and honored as my students have not only participated in the graduation recital competition but won and received highest award. Sharing a strong love and respect with my students, parents and colleagues it was bitter sweet making the decision to branch out on my own.
For many years I've been consumed with the dream of opening my very own musical school. Creating a cozy and warm atmosphere arrayed with elite qualified professional staff to lead students both adult and children to their highest level of talent. After years of perseverance, exertion and careful deliberation my dream finally came true! I decided on leaving the past to create a future.
Being a parent myself, I raised two sons of my own and poured my heart and soul into preparing them for success. Having dreamed of this opportunity my whole life, the rise and success of Virtuoso is treated as that of my third child.  It has laid beneath my heart for some time before birthing into creation. As parents we tend to concern ourselves with the significance and caliber of education. The stature of success and the merit of nobility.
With that being said, my maternal love and sentiment will pour over all students in reaching their goals and dreams.  Virtuoso is committed and devoted to providing all students with a comfortable learning environment. I am proud to have a great team of highly skilled professional instructors with equal views and values dedicated to adhering students to their best abilities.  All staff are sufficient with an effective approach on teaching techniques.  Students are sure to gain a deep and solid knowledge in order to achieve full eminence.
Gladly my dream came true and I'd be happiest sharing it with all of you. I'm sure all who enter child or adult will be glad they did.  Here at Virtuoso we make dreams come true!  Without further ado, I welcome you to Virtuoso  school of Music and Arts.
Let's make your dreams come true!
Svetlana   Chernyshyova
Director of   Virtuoso School of Music and Art
REGISTER NOW FOR LESSONS AND CLASSES
Virtuoso School of Music & Art offers private music lessons on of a variety of instruments including: piano, guitar, violin ,drum and many more. In addition to instrumental instruction, we also offer vocal lessons, Art Classes and Theory & Ear Training,Preschool classes for young children of 2-5 ages. REGISTER NOW to Enroll in Lessons & Classes!
My son has been taking piano lessons from Stevlana for 3 years. He was years old at the time and learned to read sheet music within a couple of months. He has blossomed into a very good pianist but the most important part of the experience is the self-confidence has built over the years. What separates this music school vs others is 1) amazing teachers. Lana, a very accomplished musician, has accumulated a staff with amazing experience that allows them to customize each lesson to each of their students. They really care and that is very evident in their enthusiasm that I see week after week. 2) Learning development. The school's founder, Svetlana Chernyshova has incorporated different learning techniques into the program that has produced incredible results. My daughter just started taking piano lessons at five years old and we have seen a remarkable improvement in her expression and piano projection that has built up her confidence. This is a remarkable school that offers individual and group lessons. The school also puts on concerts several times a year to showcase the student's skills. I highly recommend this school for anyone, young and young of heart.
As an adult with 4 years of childhood experience (no recitals and not very serious), I decided to resume lessons because of my grandchildren. Svetlana is much more qualified and talented than I deserve but she has helped me immeasurably. Her patience is amazing. For the last 4 years she has encouraged, cajoled, helped in many ways, and been the main reason I have been able to perform at recitals. Recitals was always a dreaded word but I now now they are ABSOLUTELY essential. My grandkids breeze through them but I sweat bullets. Or, did. Finally, after 15 recitals, I have, ironically, caught up to them. All of this is, and of course after a lot of practicing every day on my part, due to Svetlana. What a great teacher!!!! You cannot go wrong with this person who is a Russian Conservatory trained pianist as your advanced piano teacher!
My children started taking piano with Lana when my son was 8 and my daughter was 5. I had always known that I wanted them to play, and we got very lucky when a friend referred us to Svetlana for lessons. They quickly took to the instrument and I loved having music in the house. After six months of listening to them practice, I decided that I wanted to try to pick the piano back up after a 20 year complete hiatus. I had taken lessons throughout my childhood, up to and including college, but after such a long break I wasn't sure I even knew my notes anymore! Svetlana has proven to be an incredible instructor. She is an extremely accomplished musician with advanced degrees in piano from her native Russia. She has high standards and she consistently pushes the children and me to give our very best to our study. In addition, she is very attuned to the whole presentation of a piece — the dynamic aspects, the tempo, and the mood and feeling that are being conveyed. As a result, I can honestly say I am playing at a higher level of piano after only 11 months with her than I did at the height of my prior 12 years of piano study. Even better, I am getting more enjoyment from playing than ever before. It is pure pleasure to take a break from the frantic pace of mothering 3 young children to sit down and play the beautiful classical and romantic pieces I have mastered, and it is a rewarding mental exercise to work on new challenges. I can not say strongly enough how thankful I am that piano has come back into my life, and I am very grateful to have the expertise of Svetlana as my guide.
Virtuoso School My son began taking piano from Svetlana when he was 5 years old and I could not be happier. I think highly of her classical teaching style, placing importance on reading music and learning theory. She is warm, intelligent, and encouraging. Similarly, Virtuoso school of music and art feels like a home away from home - the perfect environment to relax, enjoy, and learn.