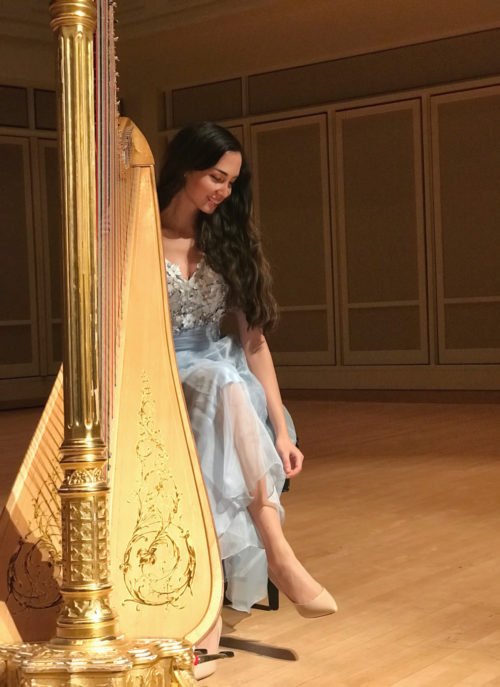 Beste Toparlak – Harp

Turkish harpist Beste started her music studies with pianist Yevgenia Tarasova in Almaty, Kazakhstan when she was 8. Returning to Turkey with her family in 1999, she was admitted to the Harp Department of Ankara State Conservatory of Hacettepe University. After 10 years long full time Conservatory Program, she graduated in 2009 receiving high honors for her Bachelor of Music in Harp degree. She continued her graduate studies with former Vienna Philharmonic harpist and soloist Xavier de Maistre at Hochschule für Musik und Theater-Hamburg and graduated with a Masters Degree in 2013.
During her studies she attended master-classes and symposiums in United Kingdom, Belgium, Netherlands and worked with world renown harpists such as Alice Giles, Elinor Bennett, Sylvian Blassel, Hugh Webb, Skaila Kanga, Marisa Robles, Catherine Michel, Frédérique Cambreling, Marie-Pierre Langlamet, Trina Bourne, Isabelle Moretti and Fabrice Pierre.
She performed many recitals in Turkey and abroad and amongst some of them had a chance to play for the Russian, Italian, British, Macedonian, Costa-Rican, Irish and Estonian heads of state. She also premiered works by composers Muhiddin Dürrüoğlu, Wolf Kerschek, Eda And, Matti Pakkanen and Xiao Fu.
As an active orchestra musician, Beste performed under conductors such as Neeme Jarvi, Vladimir Ashkenazy, Dimitrij Kitajenko,Simone Young and Alexander Liebreich, in orchestras such as Bilkent Symphony Orchestra –where she worked as Principal Harp for 2 years, Hamburg Staats Oper, NDR Symphony Orchestra, RIAS Symphony Orchestra(Berlin), Philharmonie der Nationen(Hamburg), Turkish Presidential Orchestra Senfoni Orkestrası, Hacettepe Symphony Orchestra, Eskisehir Symphony Orchestra, Greek-Turkish Youth Orchestra, Turkish-American Cultural Alliance Symphony Orchestra, in venues such as Berlin Philarmonie, Berlin Konzerthaus, Hamburg Laeizshalle, Hamburg Staats Oper, Frankfurt Alte Oper, Bremen 'Die Glocke', Munich-Gasteig Philharmonie, Kieler Schloss, Musik und Kongresshalle Lübeck, Konzerthaus Freiburg, Koblenz Kongresshalle, Wuppertal Stadthalle, Erfurt Alten Oper, Basel Stadt-Casino, Bregenz Festspielhaus.
Beste attended a program for "Young Talents" organized by NDR and got the chance to record a CD at the NDR studios in Hamburg. She accompanied the Carl-Philipp-Emmanuel Bach Choir during their tour of Germany and also appeared as solo in their CD. She was also invited by the Hamburg Senate to perform a recital in the Hamburg Rathaus.
She is winner of Matinee Musicale-Indianapolis Competition's instrumental category at 2017 and Gold Medalist of Medallion International Artists Competition at 2018.
In May 2019, she graduated at the Indiana University, Jacobs School of Music's Artist Diploma (a highly selective program study for exceptional and experienced performers whose performance level is of the highest international standards) from studying with distinguished Professor Susann McDonald, Professor Elizabeth Hainen and Professor Professor Elzbieta Szmyt.
https://www.youtube.com/results?search_query=beste+toparlak+harp+