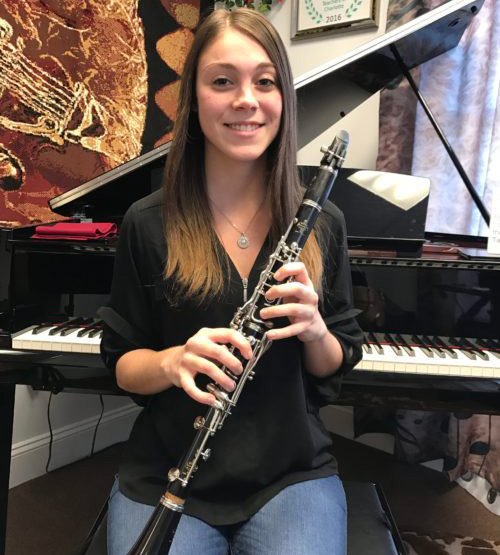 Ashlee Monaghan – Clarinet  &   Flute
I am a Florida native, born in Coral Springs, and relocated to North Carolina in 2012. I started playing the clarinet at 11 years old. I am an accomplished high quality clarinet player with years of experience. I have participated in many bands and orchestras in both Florida and North Carolina, including the USYO Orchestra, and the JYO Orchestra. In addition, the University of Georgia Honor Band, and the Winterfest Honor Band as well.
At the ages 14 and 16, I was selected for the North Carolina All-State Honor band, and have qualified for the North Carolina All-District Honor band for the past 4 years. During these educational clinics, I obtained invaluable, new education from some of the finest composers in the country, such as Randall Standridge, and Jack Stamp, who are both highly respected and accomplished musicians and composers.
Being a member of the marching band for 4 years, I learned leadership, responsibility, and developed higher quality musical techniques to further enhance my skills as a clarinetist. Learning to lead a group in the marching band inspired me to pursue a career in educating others. My personal goal is to bring each and every student to their personal, highest level possible.
I love playing the clarinet, and I play for hours at a time, often changing compositions and mixing up different musical arrangements. Music is my passion and I plan on continuing this passion with a University major in music education. Moreover, teaching music to my students continues to inspire my passion by sharing the wonderful experience music has on our souls.
I am extremely happy and honored to be a valuable part of the amazing team of the Virtuoso School of Music and Arts and look forward to enhancing your musical talent to the ultimate potential you can achieve.
*Member of the Cuthbertson Blue Note Wind ensemble.
* Solo and Ensemble Superior Ratings– 2013, 2014, 2015, 2016
*Qualified for N C All-District Honor Band–2014, 2015, 2016, 2017
*Qualified for NC All-State Honor Band–2014, 2016
*Qualified for the UGA honor band–2015
*National Concert Band—2015
*Former member of the Charlotte Junior Youth Orchestra– 2015
*Tri-M Music Honors Society– 2015, 2016, 2017
*Member of the USYO Orchestra.—2016
Music message